Benefits of Targeted Advertising
Programmatic or Targeted Display and Video Ads offer companies the ability to target advertising to prospects using various types of programmatic advertising analytics and data including habits and interests both online and offline.
Targeting niche audiences have previously been limited to the amount of time individuals may spend on trade publication or industry-specific news. With the development of display service provider software, niche individuals can be targeted across the web, no matter which websites they spend time on.
With programmatic marketing, you can target individuals, rather than waiting for them to visit a specific website. Strategic programmatic display and video buying and creation can help you target individuals with the right messages at the right places. Frequency is everything when it comes to influencing a decision.
Stop waiting for your customers and start actively seeking them out!

An Essential
Strategy
Targeted display advertising is essential in today's customer targeting strategy. Used for branding and awareness across the entire sales cycle, programmatic display advertising is the most visually appealing and focused way to get a message to an audience online. With so much data available to help target individuals online, our programmatic advertising services will give you access to cost-effective strategies with measurable results.

Person-specific,
Not Publication-specific
Programmatic display advertising has changed drastically from traditional publication-specific and general audience targeting to precision marketing to individuals. While being able to target 1-1 online, now we can target individuals across all websites they spend time on, rather than waiting for them to visit any one specific site. Increase your visibility and delivery your message when you need to.
Define your brand with programmatic advertising

The moment they choose you is now.

Website Remarketing
97% of first-time site visitors don't convert, call or fill out an online form. With retargeting ads, capture your best leads, re-gain their attention and give them a direct route back to the website to convert. Retargeting display ads help brand your business in target audience's mind. Retargeting advertising optimizes conversion rate of your digital advertising funnel for the best ROI. Ask us about 1st-party data opportunities beyond remarketing.

Geo-fencing
Geofencing advertising technology enables marketers to customize audiences through custom targeting shapes with precise date-stamped location data. With location-based programmatic marketing, target event attendees, foot traffic at competitors or any other location with the ability to track offline store visits. Localized programmatic banner Ads allow hyper-targeting of relevant customers. Ask us about addressable geofencing ads, too!

Contextual Targeting
Target prospects who are actively reading content related to the types of products and services your business offers. Programmatic display and video ads brand your business to the best prospects while they conduct research online and review other providers. We employ ads like keyword targeting display ads and Category contextual targeting ads to reach your audience. Ask us how to drive home more leads contextual and native advertising!
Enhanced Programmatic Advertising Services

CRM Targeting
Show your ads to your top leads and customers in your CRM, on their favorite sites across the web with the best retargeting banner ads.

Increase your campaign's impact with a custom landing page that inspires potential buyers to take action.

Competitor Conquesting
Show your programmatic display ads to top leads as they review your competitors, with programmatic targeting.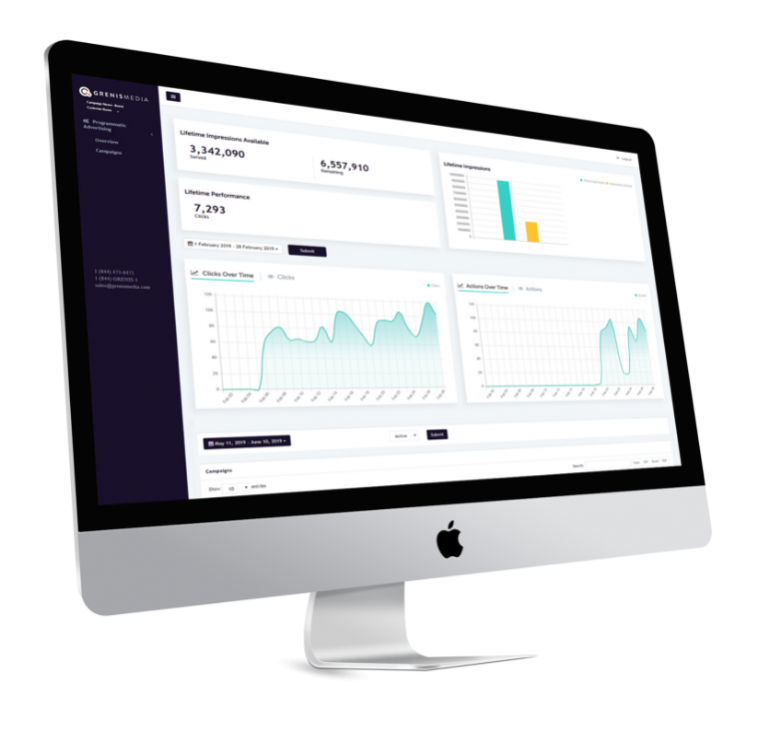 Programmatic Reporting Simplified.
Performance you can see.
When you work with Grenis, we keep our eyes on your goals. We are a programmatic ad agency that cares! You can enjoy knowing that while we work to deliver digital media ads on your behalf using the latest targeted advertising technology, it's a priority for our account managers to get on a monthly call and make sure you understand the performance. Our programmatic advertising analytics and reporting tools allow you to dive in and see where you get the most success and drill down on opportunities for further optimization. We are available to make changes on the fly; which is why we want to you know your performance at all times. As a programmatic advertising company, it's our goal to make sure that we improve performance over time with optimal manual and AI programmatic advertising and build a great relationship!